Home Seller FAQs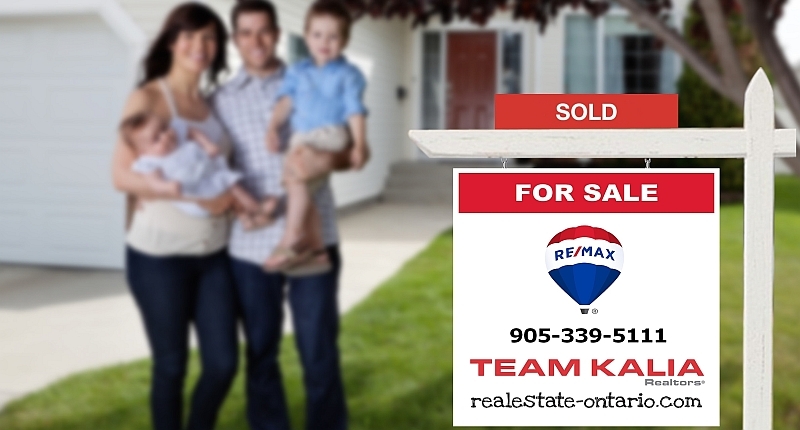 Top 10 Reasons to Sell with Team Kalia
Market Knowledge & Credibility: At Team Kalia, we have a deep understanding of the local market, including current trends and property values. You'll work with one of the top Realtors in Mississauga. This is based on the number of transactions in 2015, 2016, 2017, 2018, 2019, 2020, 2021 and 2022 according to TRREB stats. Besides, you will be working with RE/MAX, a reputable brand known for selling a third of all homes in Canada and having a strong reputation.
Pricing Expertise: We can help sellers set the right asking price for their home, maximizing their chances of a profitable sale. When you use our services, our "Sold Price to Asking Price" ratio is 98%, while the industry average is 96%. This means you could have 2% more money in your pocket.
Marketing Skills: We have the tools and expertise to market a property effectively, reaching a wider audience of potential buyers. Your listing will get lots of views because of our strong online presence. We use a great mix of online and direct mail that's designed to work well in today's fast market. We also promote your listing through cold calling and regular open houses.
Network & Negotiation Skills: We market your property to our extensive real estate database as well as to local Realtors. As your Realtor, we negotiate on behalf of you (the seller) to secure the best possible price and terms for the sale.
Time Savings: Selling a home involves a lot of time-consuming tasks. Agents handle many of these responsibilities, saving sellers time and stress. We offer a complimentary pre-listing inspection, handyman services for fast repairs, and cleaning services before your property is listed on the market.
Legal Guidance: Real estate transactions come with a lot of legal documentation. We ensure all paperwork is accurate and compliant with local laws.
Staging Advice: We provide guidance on how to stage a home to make it more appealing to buyers.
Screening Buyers: We can pre-qualify potential buyers, ensuring that only serious and financially qualified individuals view the property.
Comfort & Peace of Mind: You have the option to select a commission plan that fits your needs, and each plan includes home staging, which can help you achieve a better price for your home. Selling a home can be a complex and emotional process. At Team Kalia, we provide sellers with peace of mind, knowing they have a knowledgeable professional team guiding them through the process.
Sold Guarantee: With Team Kalia, you will have the assurance that your property will be sold within 30 days, or you can choose to cancel your listing without any obligation.
Can you assist us in both selling our current property and buying a new one elsewhere?
Absolutely! If you're thinking about selling your property to purchase a new home or condo elsewhere, it's important to bring this up during the initial seller consultation. This way, we can incorporate it into your overall selling and buying plan. Deciding whether to buy or sell first is a complex decision, and aligning the closing date of your current property with the moving date to your new one requires careful handling. There are numerous factors to consider in order to help you make an educated choice when simultaneously selling and buying property. Team Kalia simplifies this process for you. They assist clients in Mississauga with both selling their properties and acquiring homes outside the GTA, or even downsizing to Mississauga condos in certain cases.
We are non-residents of Canada. Is it possible for us to sell our property? Can you provide assistance with this?
Absolutely, even as non-residents, you have the option to sell your property in Canada, and Team Kalia can provide guidance throughout the process. However, there are specific forms and documents that need to be submitted before the sale can be finalized. It's crucial to seek professional legal and tax advice prior to proceeding with the sale. The Canadian Revenue Agency (CRA) closely monitors property sales involving non-residents to ensure the transaction is secure and that the non-resident property owner has met all their financial and tax obligations.
Do you have a support team?
When a single Realtor operates without assistance, it can lead to various challenges. Managing tasks like photography, website updates, marketing, showings, open houses, and offer negotiations becomes overwhelming. At Team Kalia, we have an in-house marketing manager who handles the marketing and administrative aspects of our real estate operations. Additionally, we have extra sales representatives on board. We also connect you with skilled professionals such as lawyers, mortgage brokers, home inspectors, handymen, painters, and more.
How do you stay in touch with home sellers and how often?
Communication methods and frequency can differ among realtors. At Team Kalia, we commit to keeping our clients well-informed about their home sale progress. This includes sharing feedback from showings and updates on offers through interactions with other agents. We customize our communication approach to fit each seller's preferences. If someone prefers emails, we'll use emails. Likewise, if text messages, phone calls, or in-person discussions are preferred, we adapt to those choices.
What is your commission fee?
Selecting a Realtor solely based on the lowest commission rate can be a significant mistake when deciding who will sell your home. However, it's important to note that commission rates are negotiable, and the principle of "you get what you pay for" applies. Even though you'll receive top-tier professional service, you can opt for a commission plan that aligns with your preferences. Team Kalia can personalize the commission plan by considering different factors to ensure you achieve the best return on your investment (ROI).
Will you be organizing open houses?
Hosting open houses is a beneficial way for local potential buyers to explore your property. However, if you have any reservations about open houses, please don't hesitate to bring up your concerns. Ensuring that we are on the same page regarding open houses is important.
What's the contract duration, and what if I want to cancel it early?
A standard seller contract usually lasts for 90 days. Although it might not be the first thing on your mind when listing your home, situations can change, and you might decide not to sell or feel dissatisfied with the listing agent's work. At Team Kalia, we recognize this possibility and offer a "cancel at any time" assurance without any obligations. However, a valid reason would be required from the home seller, which is a factor beyond our control.
I attempted to sell my home on my own or with another agent – why didn't many people show interest in my property?
There might be various reasons your home didn't sell. A significant contributor to the lack of interest from potential buyers is frequently tied to overpricing. If your home's price is set too high, buyers might opt to explore other properties in your area instead. Buyers form an initial impression of the property through the photos or virtual tours featured on the MLS. If the marketing and presentation of the home aren't compelling, it can result in lower traffic to your property. Another possible explanation could be that your home requires improvements or updates that other properties already possess.
When is the ideal time to sell a home?
The ideal time to sell a home in the Greater Toronto Area (GTA) often aligns with the broader trends in the real estate market. Generally, the spring and early summer months (April to June) tend to be popular for selling homes in the GTA. During this period, the weather is improving, and potential buyers are more active. However, it's important to consider other factors as well, such as the current market conditions, interest rates, and economic trends. The GTA real estate market can be influenced by various factors, including demand, supply, and overall economic indicators. Initiate discussions with us well in advance to determine the optimal time for selling your home or condo. We are here to offer you the latest information and advice regarding the best timing, taking into account the current market conditions and your individual circumstances.
What are the usual costs involved in closing a home sale?
Common closing costs for home sellers encompass the real estate commission and lawyer fees. Additionally, any enhancements or improvements required to facilitate the sale of the home will incur extra expenses.
What measures should a seller undertake to get their home ready for sale?
Preparing a home for sale involves several key steps to make it more attractive to potential buyers. Here's a checklist of actions that sellers should consider:
Declutter and Depersonalize: Our home stager will give you a list to remove personal items like family photos and excess clutter. A clean and neutral space allows buyers to envision themselves living there.
Deep Clean: Give your home a thorough cleaning, including carpets, windows, and all surfaces. A clean home is more appealing.
Minor Repairs: Fix any minor issues like leaky faucets, broken door handles, or squeaky hinges. These small repairs can make a big difference.
Curb Appeal: First impressions matter. Ensure the exterior of your home looks inviting with well-maintained landscaping, clean walkways, and a welcoming entryway.
Fresh Paint: A fresh coat of neutral paint can make a space feel brighter and more inviting.
Staging: Professional staging to showcase your home's potential. Staged homes often sell faster and at better prices.
Home Inspection: Getting a pre-listing home inspection can help you identify and address potential issues that might come up during the buyer's inspection.
Photography: Hire a professional photographer to capture your home's best angles. High-quality photos are essential for online listings.
Market Research: Work with a real estate agent to determine the right listing price based on market comparables and local trends.
Marketing Plan: Develop a comprehensive marketing strategy with your agent. This includes online listings, traditional advertising, and open houses.
Legal Documents: Gather all necessary documents, such as the deed, property survey, and any warranties or maintenance records for appliances or systems.
Home Warranty: Consider offering a home warranty to give potential buyers peace of mind about the condition of major systems and appliances.
Flexible Showing Schedule: Be ready to accommodate showings at various times to maximize exposure.
Secure Valuables: During showings or open houses, secure any valuable items to prevent theft.
Final Touches: Before a showing or open house, add final touches like fresh flowers, soft music, and pleasant scents to create a welcoming atmosphere.
What is a pre-listing inspection and why is it beneficial for selling my property?
Depending on the property type (optional for condo apartments) and its age, a pre-listing inspection before listing your property for sale can be advantageous. This involves having a professional home inspector visit to identify any immediate attention-worthy issues. The inspection focuses on critical areas like the structure, electrical systems, plumbing, and heating and cooling. Discovering major issues after receiving an offer can risk the sale's successful closing. Buyers may reconsider or renegotiate at a significantly lower price.
A pre-listing inspection instills buyer confidence during competitive bidding scenarios with multiple offers. This is a key reason for such inspections, and it can potentially increase the final selling price. It's a method that sets us apart in the industry, helping us achieve higher sale prices. The cost of this service can be covered by Team Kalia from the proceeds of the sale, further benefiting sellers.
What information should I share with my Realtor and potential buyers?
During the process of selling a home, it's essential to inform your Realtor about any defects or concerns you're aware of. Your Realtor will make sure this information is included in the MLS listing if needed or shared with buyers through their buyer agent. Transparency is key, as surprises can be unwelcome, particularly in home purchases. Being truthful is beneficial, as it can prevent deals from collapsing and protect you against potential legal issues.
Do you provide Home Staging services?
Absolutely. Staged homes frequently experience quicker sales and command better prices. We collaborate with leading staging firms covering the entire GTA region and its outskirts. Every home or condo sold by Team Kalia undergoes some form of staging, be it virtual, traditional, or a fusion of both. Occasionally, all existing furniture in a home is replaced with carefully staged items.
Is it advisable for me to be present during showings or open houses?
It's generally recommended that sellers not be present during showings for several reasons. The primary reason is to enable potential buyers to explore the property and converse freely with their own agent. Occasionally, buyers might ask you questions directly, but it's better to avoid engaging in discussions about the home with them. It's best to leave shortly before showings or open houses begin and return after the potential buyers have left your home. This approach helps ensure a smoother showing experience and allows buyers to envision themselves in the space without any distractions.


PRICING FAQ
What's the value of my home?
Many people are naturally interested in discovering the current market value of their home or learning about recent sales in their neighborhood. You can use the Home Evaluation Tool on this website to access this information, whether you're a motivated seller or simply curious. However, if you're genuinely considering selling your home or condo, it's as easy as picking up the phone to schedule a free, no-obligation home evaluation. Having an experienced and local Realtor personally discuss this crucial aspect with you is often the better approach.
How is my home's value determined?
We establish your home's value through a thorough comparative market analysis (CMA) process, which enables us to recommend an appropriate listing price. This involves a comprehensive assessment of recently sold homes that are "comparable" to yours. We consider various parameters such as:
Age of the home
Neighborhood
School district
Square footage
Lot size and special features (e.g., backing onto a park, ravine, etc.)
Number of bedrooms and bathrooms
Upgrades and updates
Basement condition (finished or unfinished)
For condos, factors like condo fees, views, parking spaces, storage lockers, floor level in high-rise condos, etc.
By taking all these factors into account, we can provide you with an accurate valuation for your property.
Why does the assessed value differ from the estimated value you provided?
The assessed value is distinct from both the market value (the price at which comparable properties were sold) and the appraised value (the value determined by a bank's appraiser). The assessed value of a home is used solely for taxation purposes within your local municipality. It doesn't influence the potential worth of your home to a prospective buyer in the current market conditions.
What's the distinction between a list price and a sale price?
The list price represents the initial asking price of a home when it's placed on the market. On the other hand, the sale price is the actual amount for which the home is eventually sold. Realtors typically recommend a list price that closely aligns with the final sale price, allowing some room for negotiation.
In today's real estate landscape, many Realtors opt to list properties at a price below their market value in order to incite multiple bids, potentially leading to a sale price well above the list price. While this is a popular approach, it's not always foolproof. As an experienced Realtor team, we offer a realistic assessment of the appropriate list price and determine the strategy that best suits your needs based on the prevailing market conditions at the time of your sale.
Is it a good idea to set a higher price for my home to allow for negotiations?
As soon as your listing becomes available, both Realtors and potential buyers pay close attention. If your property is priced above its current value, interested parties are quick to withdraw. By the time you decide to lower the price, a significant number of potential buyers may have moved on. A home that is correctly priced tends to sell swiftly and close to its listing price, eliminating the necessity to incorporate excessive room for negotiation.


OFFER PROCESS FAQ
How should I handle low-ball offers?
When selling your home, it's possible to receive offers that are significantly below your asking price. It's important not to let emotions get in the way or take it personally. Keep in mind that the buyer's agent is advocating for their client's best interests, not yours as the seller. In our role as your listing agents, our main priority is to skillfully negotiate optimal counter-offers, ensuring that we retain the interest of potential buyers and avoid losing them.
How does the home inspection process unfold?
The home inspection involves a condition that buyers can include in their offer. Buyers typically arrange and cover the cost of the inspections themselves. They're given a specific timeframe to conduct the inspections, and additionally, a set period to either waive the inspection condition or ask the seller to address the concerns outlined in the home inspector's report.
What if the appraised value is below the agreed price?
In the event that the property's appraised value, as assessed by the bank's appraiser, is lower than the agreed-upon purchase amount, there are different scenarios:
During the five-day conditional period, if the appraised value is lower, the buyer can choose to withdraw from the deal, and the seller would refund the initial deposit.
After the deal has become firm, if the appraised value is less than the purchase amount, the buyer is responsible for covering the shortfall. This means the buyer needs to bridge the gap between the purchase price and the appraised value using their own funds.
In closing, look no further than Team Kalia for all your home selling needs. With a wealth of positive testimonials from countless satisfied sellers and buyers, our services come highly recommended. We have a proven track record of delivering successful results and ensuring smooth transactions.
Allow us to showcase our expertise and dedication as we guide you through the process of selling your home. Your satisfaction is our priority, and we're here to help you achieve your real estate goals with confidence.
Get In Touch!